Welcome To My Future Cruise Credit
Trust the experts to help you maximize your Future Cruise Credit, access special promotions and get secret tips on how to make your dream holiday into the ultimate luxury floating oasis experience of a lifetime.
We have been offering our services for over 25 years, partnering with the world's most popular cruise brands. The team at myFCC are not only cruise specialists, but also hand-selected experts in helping our customers make the most of their Future Cruise Credits. Overall, what makes us special is our passion for cruising and travel, we stand behind our brand and provide exceptional customer service for all our members no matter where in the world they are.
Industry partner of all major cruise lines
We work closely with all major cruise lines, so you can receive expert and tailored advice for your Future Cruise Credit.
Create your very own My Future Cruise Credit account for free, in only a few simple steps
Browse among thousands of sailings worldwide and get expert advice along the way
Claim an additional credit back to use to PAY LESS on any hotel, tour, resort, cruise or even wine of your choice
Ready to make the most of your Future Cruise Credit?
Get started today, it's free!
Why book your Future Cruise Credit with us?

In addition to using your Future Cruise Credit, you will have access to Cruise Line Promotions as well as savings on future travel when you book.
Future Cruise Credit Experts
Have comfort in knowing that we are Future Cruise Credit Experts and our specialised team will assist you along the whole way
You will have a full selection of sailings available from all major cruise lines alongside beautiful destinations to explore
Proud to be globally recognised and accredited agent. We work in partnership with all the major cruise & travel associations
How will my Savings Credits work?
Savings Credits have real monetary value, so you can use them to save up to 60% off market rates on hotel and resort stays, tours, cruises, ski, spa, golf and so much more!
See all the ways you can use your Savings Credits Credits below, then find out how many you're eligible for right away!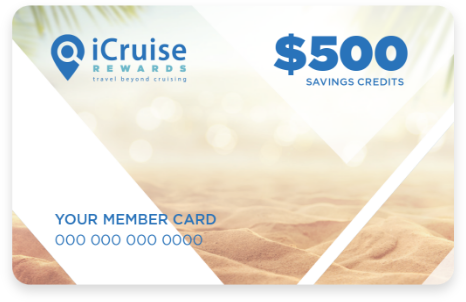 Use your Savings Credits to unlock savings on
If you have any questions, our friendly team of Future Cruise Credit Experts are equipped and ready to help with your Future Cruise Credit. Get in touch at the below options: