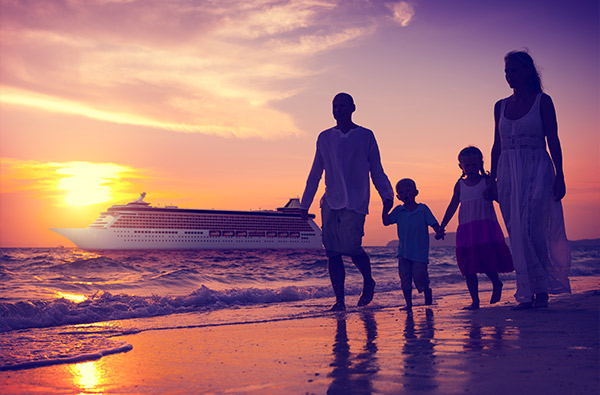 ---
Family Cruises and Cruising with Kids
---
Family Cruises
More and more families are turning to cruise ships as the destination of choice for the next family vacation. And here's why.
Tremendous Value
Cruises are virtually all-inclusive vacations. One price includes all accommodations, all meals, activities on board the ship, kids programs and entertainment.
Hassle-Free Vacation
On Family Cruise, there is no shopping, no cooking, and no cleaning. There is no waiting in line, no rental cars, no gas bills, no worries. You unpack once and let the ship's crew do the rest. From cleaning your cabin twice a day (including fresh towels), to 24-hour room service, it's all included in your price.
Multi-Generational Floating Resorts
Today's state-of-the-art cruise ships offer something for everyone. With rock climbing walls; ice-skating rinks; roller blade tracks; swimming pools; hot tubs; exercise facilities; movie theatres; Internet cafes; sports bars; libraries; video arcades; kids programs; spa services, shopping; gambling; cooking classes; enrichment seminars; guest lecturers; computer classes; yoga and more, there is plenty to keep the whole family entertained.
Convenient Home Port Departures
With cruise ships departing from 22 ports in the United States and Canada, cruising has never been more convenient. Today, you can find a cruise ship within driving distance of most US cities including Miami, Baltimore, Philadelphia, New York, Galveston, New Orleans, Los Angeles, and Seattle to name a few. This can save your family hundreds of dollars on airfare.
Family Dining
When was the last time you all sat down to dinner as a family? On a Family Cruise, you can do that every night. Each cruise line will make sure that every evening; your family enjoys a lavish meal together. Want so spend a nice quiet evening away from the kids? No problem. Many cruise lines offer alternative dining options that give you a chance to enjoy dinner on your own. The best part of all is there's no clean-up after dinner.
High Satisfaction Vacations
Cruises have the highest guest satisfaction rating in the entire travel industry. Cruise line studies show that families that travel together on a cruise will return again as a group within two years of their first trip. By planning a Family Cruise, you have a much better chance of making everyone happy.
Cruising with Kids
In addition to these reasons for considering a cruise for your family vacation, here are other things families cruising with children should know.
Kids Programs
Family-friendly cruise lines offer on-board children's programs staffed by certified youth counsellors. Participation in these fun and educational opportunities is optional, but most parents find that its sometimes hard to get the kids to leave them! Activities are offered on both days at sea and while the ship is in port.

Typically, you'll find the children organized by age into three or four different groups, each offering appropriate activities in separate playrooms. Some cruise ships even have a teen clubhouse. The minimum age to join the program on many ships is 2 or 3 years, and the children are expected to be potty trained. However, some lines require that children be age 5 or older.

While some cruise lines, like Disney Cruises and Carnival Cruise Line, guarantee children's activities on every sailing, in every destination year-round, others offer the program seasonally or only when there are a certain number of children booked on the cruise. In these instances, we can usually learn if the children's program will be in effect inside of 60 days of sailing.
Stateroom and Suites
Cruise ships have a number of different types of staterooms for any budget including Suites, Balcony Staterooms, Oceanview Staterooms, and Interior Cabins. Each family can choose which type of stateroom best fits their budget. Some cabins can sleep four or five guests in one room so families with small children do not have to buy more than one cabin.
Depending upon your family, here is what you should know about cruise ship cabins:
Triple and Quad Occupancy Cabins
If you have young children and want them to stay in the room with you it's possible to find a cabin that can hold more than two people. A portion of the accommodations on most ships have a third or fourth bed that either pulls down from the wall or drops out of the ceiling. These full-size beds can then be retracted during the day so they're out of your way. Your cabin steward will take care of making up the bed at night and putting away for you the next morning.
Connecting Cabins
Newer ships have a variety of cabin configurations that can accommodate families. One of the most popular options is cabins with interior connecting doors, just like at hotels. This gives you the added convenience of having twice the amount of space as well as a separate bedroom and a second bathroom. And, just like in hotels, you will pay for two rooms.
Family Suites
Family suites are a popular way for parties of five to eight passengers to share accommodations. These suites usually have at least two bedrooms and bathrooms, as well as large common areas and balconies conducive to family gatherings. Since there may be only one or two of these rooms on the ship, families interested in pricing these accommodations may have to book as much as a year in advance.
Infants
Some cruise lines allow infants under age 2 to sail for just the price of port charges and taxes. Norwegian Cruise Line has historically offered this option, but today, most lines charge the same amount for an infant as they do a teenager. Cribs are also available on board and can be made available in your cabin by making a request in advance. If your child is a little too large for a crib, inquire about bed rails that can be installed for you.
Babysitting
Babysitting may be available and can be arranged on board the ship. Family-friendly cruise lines with ample space in the children's playrooms usually create a slumber-party style environment during the evening hours and may keep the children as late as 1:00 am. Other lines without extensive children's programs can often find female crew members willing to volunteer their time; but if this is the case, the availability of babysitting cannot be guaranteed. Either way, there is a nominal charge for babysitting services.
Kids Menus
Some cruise lines offer menus with all your kids favourite foods, so you can travel conveniently with even the most finicky eaters. Of course, children are always welcome to order off the main dining menus if they'd like to try something new. And since all of the food is included, you don't have to worry about sending it back if you get a wrinkled nose.
Shore Excursions
Shore excursions can provide fun, educational and high adventure experiences for the entire family. Most cruise lines have age guidelines to assist you in making choices, so when appropriate, you should definitely bring your children along on your shore excursions. Some cruise lines, such as Holland America Line, have shore excursions specifically for the kids. And if your itinerary includes a private island, you may find the children's program in effect there, as well.
Children's Supplies and Needs
Although there are a few exceptions, cruise ships in general do not supply baby food, formula or diapers. So plan on bringing enough of these supplies to get you through the entire cruise. You should also plan on bringing your own stroller or other form of transportation for your children, including car seats that can fit on the plane or in shore excursion vehicles. Carnival Cruise Line is now offering stroller rentals in some cases, so if you've decided to take a Carnival cruise well be happy to find out if your ship offers this service.
Limited Access to Children Onboard
Cruisers under the age of 18 are prohibited from entering the bars, lounges, the casino, the hot tubs and the spa and salon facilities and the exercise rooms. Children may also be prohibited from attending certain shows designed for adults only.
When Should I Book My Family's Cruise?
This is, without a doubt, the commonly asked question in the travel industry. And the answer isn't always simple. Cruises require a little advance planning, and the spontaneous traveller is often surprised to learn that ships cost more than they expected or are sold out of cabins that can accommodate both parents and children in the same room.
Best Cruise Lines for Families
Carnival Cruise Lines
The Most Popular Cruise Line in the world with a Las Vegas-style atmosphere specializing in the Caribbean, Bahamas and Mexico with convenient departure points around the US. 
Celebrity Cruises
Gorgeous ships, subdued elegance, pampering service and gourmet cuisine all make Celebrity one of the most talked-about cruise lines in the industry today. 
Costa Cruise Line
Boutique cruise line with an Italian flair that appeals to an international clientele wishing to sail the Caribbean during the winter or Europe and Mediterranean in the summer.
Crystal Cruises
A six-star culture of relaxation, pampering and intellectual enrichment appealing to the luxury traveller seeking both exploration and all the benefits of a large ship's facilities and amenities.
Disney Cruise Line
The dream-makers at Disney have created a unique vacation experience by defining separate areas for families, kids and adults. Combine your cruise with a stay at Walt Disney World. 
Holland America Line
A traditional cruising style with a comfortable refined social environment creates a loyal clientele by providing quality, consistency and Asian-style service to destinations around the world. 
Norwegian Cruise Line
The casual and contemporary atmosphere of Freestyle Cruising offers flexible and enriching cruising experiences to unique itineraries like Hawaii, Alaska, Europe and Bermuda.
Princess Cruises
Big ships with surprisingly intimate, romantic atmospheres and personalized service attract both first-time cruisers and experienced travellers on itineraries all over the globe. 
Royal Caribbean International
Perfected the floating resort by boasting incredible, innovative ships and by offering both elegant relaxation and active adventure all in one vacation to destinations worldwide.