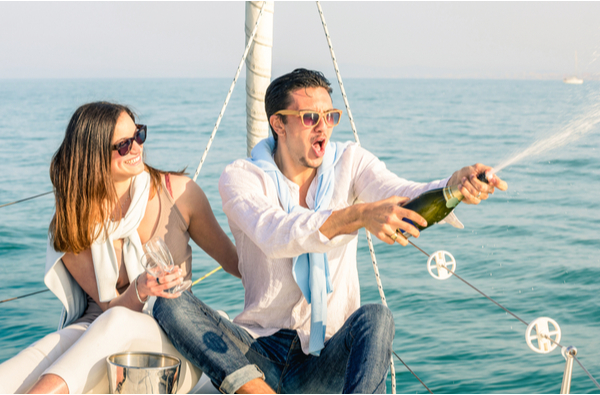 ---
Cruising 101: Special events & celebrations
---
Wedding, birthdays and special events
If you're not sure how to use your Future Cruise Credit, we've got a secret to reveal! Did you know cruises are also great for hosting birthdays, weddings, hens parties and special events of all kinds for that matter! The team onboard take good care of you and will be sure to make your special occasion into something absolutely magical!
Weddings
Did you know all the major cruise lines offer wedding packages? Simply speak to one of our experts at my Future Cruise Credit to help you decide which option is suitable for your dream day. Some cruise lines offer Live stream options so you can share the special event with any friend or family on land! Packages will often include:
Ceremony
Event coordinator services
Photography
Specialty dining for the couple
Live Music
Floral arrangements
Wedding cake
There are also alternative options depending on the size of your party and which cruise line you choose to book with. You have so many opportunities to personalise your experience to your taste with wedding favours for the guest, priority boarding and special breakfasts. Simply let your imagination win and make the most of your special day.
Birthdays
If you advise your cruise line at the time of booking you have a birthday day onboard and you'll most likely receive some special treatment. Whether you're looking at arranging specialty dining at your favourite restaurant or securing a special seat at a show or making sure a birthday cake is served (remember no candles onboard), they'll be ready to make everything extra pleasant. Don't be shy in arranging to have flowers, chocolates or fruit and champagne delivered to your cabin or even set a secret surprise up for a friend. Don't miss out on really maximising your experience onboard.
Kids Birthdays
Moreover, if it's a kid's birthday you're looking to arrange, many cruise lines also offer kids birthday packages, inclusive of gifts, drinks packages and entertainment arranged in one of the exclusive kids' clubs.
Anniversary/ Romance
Most cruise lines have Anniversary/Romance packages available too, these can include anything from flowers, balloons, banners, door signs, cake, or even sparkling wine and photography services. Most cruise lines also often offer vow renewal packages, in addition to a vow renewal service, there is a range of treats available such as special dinner and champagne or supersizing with some friends.