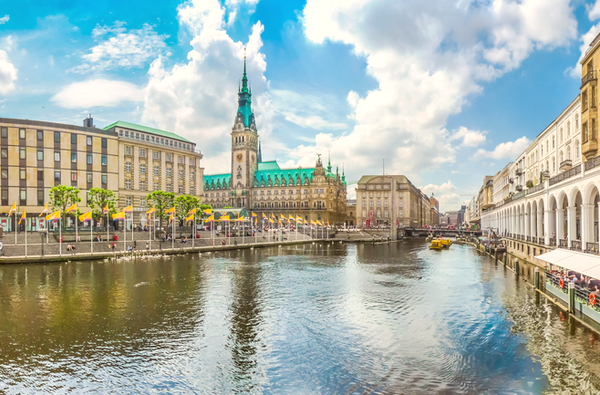 ---
Top 10 embarkation ports - Part 2
---
Top 10 embarkation ports - Continued.
My Future Cruise Credits presents the top 10 embarkation ports part 2. Unsure what destination to pick when redeeming your Future Cruise Credit? Don't worry, we've got you covered with a detailed insight into why our favourite 10 ports are special, what there is to see and how to get by once there, so you can start thinking about arrangements and plans in line with your dream cruise.
If you missed it, start by reading edition one of the top 10 embarkation ports for the first half of this exciting experience. However, today we're moving onto the next 5 destinations on our bucket list.
Palma, Spain
Palma de Mallorca, at the heart of the Western Mediterranean, is a convenient embarkation point or port of call for many a cruise. Better still, with its vibrant waterfront and charming Old Town to discover, the capital of the Balearic Islands is one of Europe's most thrilling city-break destinations, enticing many cruise passengers to arrive a few days early. Palma's historic centre is conveniently compact, so whether you take a shore excursion or discover it on your own, there's no need to miss any of the highlights. Beyond sightseeing, there's excellent shopping in the Old Town's winding streets, plus plenty of bakeries, cafés and bars to fuel your explorations.
Palma cruise port at Estacio Maritima is 15km by taxi from Palma Airport and takes 20 minutes (around 25€). It's a straightforward 50-minute journey by bus through - bus No 1 runs from the airport (via the city centre) to the port every 15 minutes and costs just 5€. Palma is served by direct flights from over 20 UK airports in the main season. The combination of direct flight availability and straightforward transfer gets our vote for the most accessible cruise departure port for UK travellers in our Top Ten (Amsterdam has the edge but has less than half the volume of departures so falls outside the Top Ten).
Savona, Italy
The port is very well equipped for cruise ships. There is the large, modern cruise terminal, Palacroisière, which provides all the facilities for its passengers. You will dock next to the marina, which is located in the historic centre of the city. Most sights are within walking distance of your cruise ship. Due to the port's excellent location visiting the city of Savona or an excursion to Genoa or Portofino is easy.
The port is around 45 mins (40km) by taxi from Genoa Airport which is serviced by direct flights from London City and Stansted. The easiest and cheaper option is to take the Volabus shuttle (runs 6 am-midnight) from the airport to Genoa Principe Station (6€) and catch the direct train (around 5€) to Savona. From there it is a 20 min walk to the port. Taxis, public bus transport & train services straight from the airport, are also available and of easy access. 
Genoa, Italy
The cruise port is within walking distance of the historic centre. You can choose to visit the city of Genoa, but some cruise passengers opt for an excursion to cities like Portofino or Savona. Genoa has a long and rich history. It is a pleasant city where you can easily spend a whole day. Strolling along the old harbour or in the historic centre with its many marble palaces. It is also the city where the explorer Christopher Columbus was born. You can still visit his birthplace. Popular excursions outside Genoa are Savona, Portofino and the Cinque Terre.
It is just 15 minutes by taxi from the airport (7km) or catch the regular Volabus shuttle bus to Genoa Principe Station, from where it is an easy walk to the cruise port. Although Genoa is only served by direct flights from Stansted and London City, there are many direct services to the airports of Milan (shuttle buses run to Milan station and regular low-cost direct trains to Genoa Principe Station take from 90 minutes).
Copenhagen, Denmark
Denmark is regularly listed as one of the happiest countries to live in and cosmopolitan Copenhagen or København in Danish is a wonderful place to visit. A few days in Copenhagen can certainly get you hooked with attractions across the city from Royal Palaces to fun-filled amusement parks, unfathomably popular statues to the colourful Nyhavn district as well as learning a little about how to make your life more Hygge, there is much to suggest that an extra day or two before or after your cruise is well worth it. With so many things to see and do though it might be hard to decide just what do to during your limited time.
Direct flights are available from around 10 UK airports during the summer season. A wide selection of cruise lines (including Oceania, HAL, Princess and Disney) depart from here. Ocean Quay (Oceankaj) Cruise Terminal is where most turnaround cruises depart. It is around 30 minutes' (15km) journey by taxi from the airport, costing approx 375DKK (around £45). Alternatively, take the Metro to Nørreport St, and with a couple of changes, you stop at exactly a 15-20 minute walk to the cruise terminal (follow the blue line marked on the pavement). The fare is 36DKK (around £4.50) and your ticket is valid on all metro/bus/s-trains for 75 minutes. You need to buy a ticket covering two zones at the machines on the platform.
Hamburg, Germany
Hamburg is a stunning port city that truly amazes, with its horde of attractions. For cruise passengers, the port of Hamburg offers two terminals that are both located in close proximity to the city centre. These two terminals are the Hamburg Cruise Centre, HafenCity and the Hamburg Cruise Centre, Altona. Visitors docking here has a lot of options when it comes to sightseeing. For very short stays, visitors can explore the harbour area itself, one of the most appealing attractions the city has to offer. For visitors having more time on their hands, this port offers many options from exploring the many sights in the city to taking a fun detour to nearby Berlin.
Flights are available from 7 UK airports in peak season. AIDA is the main operator from here in 2017 with others offering occasional departures including Cunard and Hapag-Lloyd. Hamburg has three Cruise Centres - Hafencity, Altona and its newest, Steinwerder. They are all around 35 minutes by taxi from Hamburg airport (approx 65€). From the airport, there is a direct train to Hamburg Central Station (25 minutes journey, costing 3.2€). Change here for Hafencity (10 minutes by underground with a short walk to the terminal building), Altona (around 10 minutes train with a longer 15-minute walk) or Steinwerder (a 5-minute train to Veddel station where you can pick up a free shuttle bus to the terminal - this only runs every hour though).