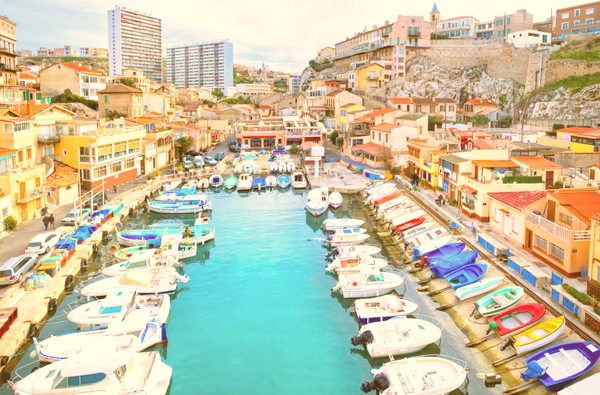 ---
Top 10 embarkation ports - Part 1
---
Top 10 embarkation ports - Part 1
My Future Cruise Credits presents the top 10 embarkation ports. Unsure what destination to pick when redeeming your Future Cruise Credit? Don't worry, we've got you covered with a detailed insight into why our favourite 10 ports are special, what there is to see and how to get by once there, so you can start thinking about arrangements and plans in line with your dream cruise.
Barcelona, Spain
Barcelona's port is conveniently located within walking distance of the famous Las Ramblas. The culture, history and being home to incredible architecture such as Gaudi's masterpiece La Sagrada Familia, has made Barcelona a preferred port for a wide variety of cruise lines.
Direct flights to Barcelona are available from thousands of airports throughout the year. Upon arrival, direct taxi services to and from the port are available, taking around 30 minutes at a fixed rate (currently 39€). Alternatively, a shared coach shuttle can be booked in advance from 10.75€ per person one-way. If staying a night in Barcelona pre-cruise (recommended), you can take one of the frequent trains from the airport (Terminal 2) to Barcelona Sants; the journey of around 30 minutes costs just 4.10€. Alternatively, purchase a T10 multi-trip ticket to combine the train journey with the Metro and bus services for 9.95€ (this price covers up to 10 journeys throughout the city centre). When you are ready to join your cruise, a T3 Portbus runs from close to the Christopher Columbus monument at the bottom of Las Ramblas and costs 3€ for a single journey (alternatively around 20 mins walk).
Civitavecchia (Rome), Italy
Civitavecchia is the nearest cruise port to Italy's historic capital (approx. 75km) and is a hive of activities. There are direct trains to Civitavecchia station (a short walk from the port) from Rome's Termini station. Journeys on regional trains take around 70 minutes and are usually 5€ - bargain! In Italy, you must remember to have your ticket validated in one of the yellow machines before boarding. A shared shuttle from the city will cost around 20€ per person.
Rome's Fiumicino and Ciampino airports are serviced by direct flights from 12 UK airports between them during the summer season. The Leonardo Express train service runs from Fiumicino to Termini station every 30 minutes, costing 14€ but a cheaper direct service from both airports is the Terravision coach service at just 4€.
Taxis from the airports to port can easily cost a whopping 150€. There are fixed taxi fares from the airports to Rome city centre though - 48€ from Fiumicino and a little less from Ciampino.
Venice, Italy
Venice is one of the busiest cruise ports in the Mediterranean, with nearly 500 ship departures and 700,000 cruise passengers per year. Technically, however, Venice isn't on the Mediterranean at all, or even on the sea: The city and its cruise-ship piers are inside the Venetian Lagoon, which is connected to the Adriatic Sea by a narrow entrance called the Porto di Lido.

The Terminal Venezia Passeggeri or Venice Cruise Terminal is located near the 4-km causeway that links the historic city with the mainland.
It consists of two main areas: the Marittima basin, which can handle the largest ships that call in Venice, and the San Basilio pier, which is just around the corner in the Giudecca Canal.
At least 6 UK airports offer direct flights to Venice Marco Polo in peak season. The Port of Venice is only 5km from Marco Polo Airport and a direct ATVO bus service runs every 20 minutes to Piazzale Roma (8€) from where the 'People Mover' trains transfer you to the port in a couple of minutes (1.50€).
Taxis and private shuttle services from Marco Polo will usually cost around 40€ but if you are due to land at Treviso Airport your costs and journey time will be around double. As this is Venice why not travel to the cruise port by water taxi - the Alilaguna (Blue Line) service from Marco Polo costs 15€ per person (27€ return) and takes in some iconic scenery as it travels a circuitous route via Murano and St Mark's Square - ideal for those who are not in any rush.
Piraeus (Athens), Greece
Piraeus is one of the largest cities in Greece and is a municipality within Athens urban area. The city is located just 6 miles to the south of Athens city centre and is one of the most important and ancient commercial-cum-leading port in the Mediterranean.
The city lies to the west of the Piraeus peninsula, while to the east are a number of private harbours, namely the Mikrolimano (Tourkolimano) and the Zea Marina (Pasalimani). The city is connected to Athens by an active railway and metro network which end at Atki Kalimassioti.
Being the third largest populated city of Greece, Piraeus gained fame and significance when Athens became a naval power. The city has customary houses, wide lanes, airy squares, tree-lined streets, parks, theatres and industrial zones that give a spectacular sight of the city.
Direct flights to Athens are available from London, Manchester, Birmingham and Edinburgh. Piraeus is only seven miles from Athens City, but Athens International Airport is further out, at around 45 minutes away by taxi (50km) although this can take twice as long in traffic. There is an official fixed taxi fare from the airport to Piraeus of 54€ (70€ night rate) but for peace of mind and avoidance of taxi queues pre-booking is recommended.
You can travel to the city centre using the Metro Blue Line 3, which leaves every 30 minutes between 6:30 and 23:30, taking 40 minutes and costing 10€ (only 18€ for two people though). At Monastiraki station in the centre of Athens change to Green Line 1 for Piraeus (using the same ticket) - another 30 minutes or so, where the station is within walking distance of the two cruise terminals.
Marseille, France
Marseille's port sprawls a long way along the city's northern coastline. It includes the ferry terminals serving Corsica, Sardinia, Algeria and Tunisia, freight terminals and dry docks as well as the cruise line terminals. The Old Port of Marseille is at the end of the Canebière, the major street of Marseille. It has been the natural harbour of the city since antiquity and is now the main popular place in Marseille. It became mainly pedestrian in 2013 and it is picturesque for a walk or enjoying a glass of wine with the best views.
Direct flights to Marseille are available from London, Bristol, Manchester, Edinburgh and Glasgow in the main season. Marseille Airport is 20 minutes by taxi from the cruise terminal and these can be booked in advance for around 45€. If you are staying in Marseille, shuttle buses are available from the airport to Gare Saint Charles, the main train station. These run approximately every 15 minutes throughout the day and journey time is around 25 minutes. The one-way price is 8.30€. From here you can take the Metro Line 2 towards Bougainville and alight at Joliette where you will need to catch a further bus (no. 35) to the Marseille-Provence Cruise Terminal (combined ticket 1.6€ valid for an hour). This will still require a walk of 1 or 2km to the ships inside the port (depending on the berth), so overall a taxi from the airport is recommended! The smaller but more centrally located J4 cruise terminal near the Cathedral is not a turnaround port.