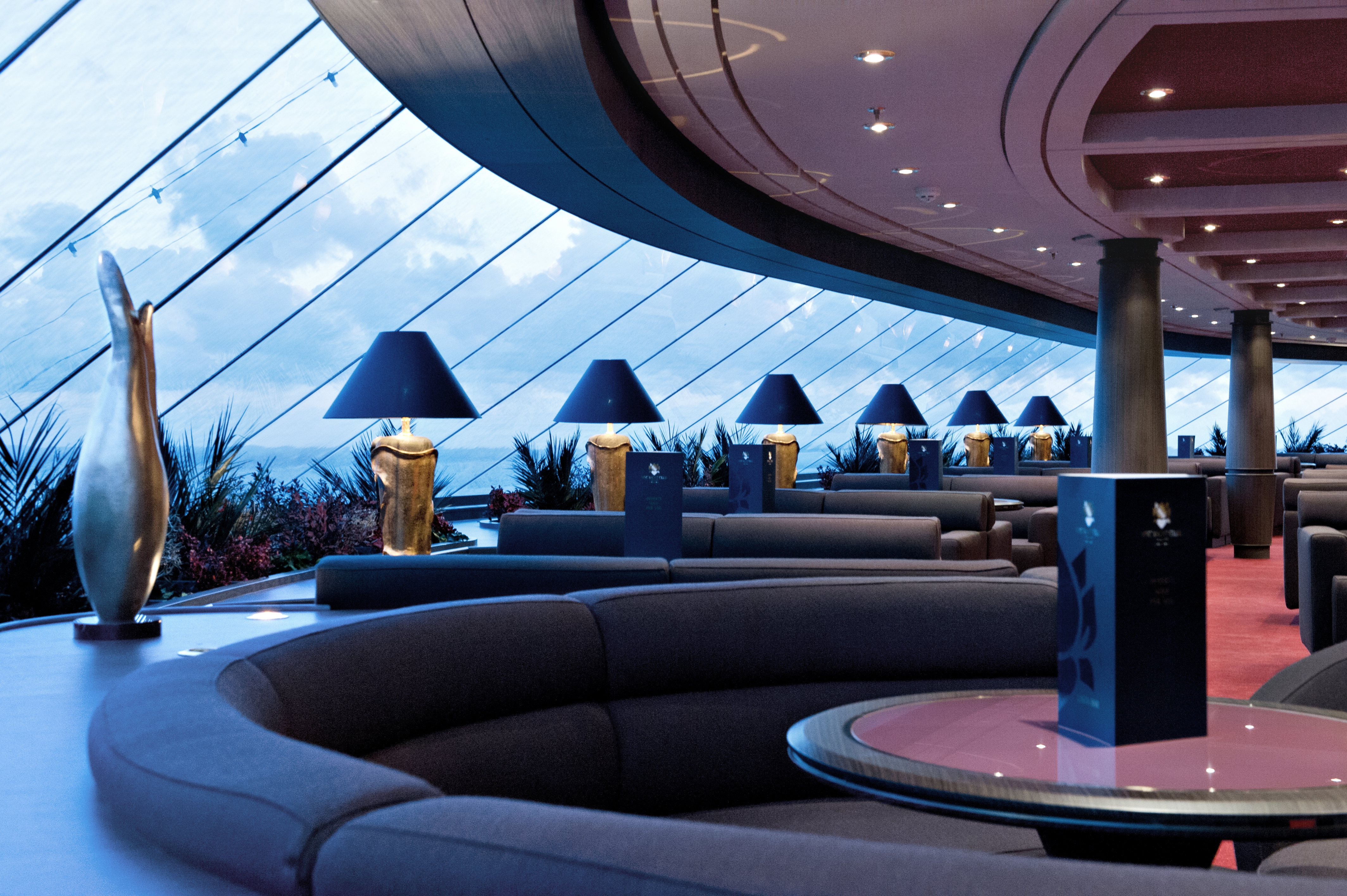 ---
The firsts, the biggest & the exclusives at Sea with MSC Virtuosa.
---
The firsts, the biggest & the exclusives at Sea with MSC Virtuosa. The grandeur of an inaugural ship that just made history.  
Humanoid Robotic Bartender, full-size bowling alley, Formula One virtual-reality racing cars are some of the firsts at sea onboard the impressive MSC Virtuosa. The second-largest cruise ship in the MSC Fleet set sail out of Southampton on May 20th on its inaugural voyage. It will go down in history as the first ship to complete a UK coastal cruise during these unprecedented times.  
Virtuosa is designed to comfortably sleep 5,770 guests and 1,500 crew. Instead, this ship sailed with 900 passengers providing an exclusive and safe maiden voyage for those eager cruisers looking to jump back into cruising. The ship boasts many firsts at sea and unique facilities entertaining and delighting the passengers on this 4-day itinerary.  
The Atmosphere Pool, 1.700 m2 with about 10 m2 of public space per guest, is one of the most plentiful to be found at sea, and features the most intricate waterpark onboard a ship with thrilling slides, ropes, and endless staircases for extreme fun. 
The first-ever humanoid Robotic Bartender at sea, Rob, delivers an immersive bar experience. Entertaining guests in eight different languages while serving up his signature cocktails, alcoholic and non-alcoholic, and countless personalised drinks, just like a human bartender would do, whilst engaging with the guests with his voice, human-like expressions. 
At the heart of MSC Virtuosa is a breathtaking indoor promenade covered by a dramatic LED dome, it doesn't matter how many times you walk past, you can't stop glazing as it changes theme, colour, and design. This is the longest LED Dome at Sea.
The first Two Formula One Virtual-reality racing cars available onboard a cruise, considered the Monaco Grand Prix weekend was happening on land, they were a perfect piece of entertainment for the fans of the high speed. 
For the first time at sea, a full-size bowling alley where you can challenge friends and family to the last pin!
MSC Virtuosa exceeded the already record-breaking retail space onboard MSC Grandiosa, to present the largest shopping area at sea on any cruise ship with 11 state-of-the art boutiques and over 250 brands. Great shops, bars and you really do forget you are onboard a cruise ship sometimes. 
After partnering with LEGO, MSC is the first cruise to feature an exclusively original Lego adventure club for kids inclusive of classic lego bricks, a vertical lego play wall, building contests, and competitions and even PlayStation, Xbox and Wii lego-themed games. 
There's a unique place onboard MSC Virtuosa, exclusive to Yatch Club members, where you can savour privacy in a world of choice. Discover The Yacht Club, a place of superb private areas, from the elegant Top Sail Lounge with its panoramic views to the stylish restaurant and the One Pool Deck complete with a private swimming pool, whirlpool baths, a sun deck, and bar.
Something for those looking for that extra luxury available in this area only. 
Can I use my Future Cruise Credit on a coastal cruise?
Do you have a Future Cruise Credit Note? Book your next cruise now and receive additional bonuses including hotel & activities credits, plus combine your FCC with an additional promotion to get extra benefits on your next local or worldwide cruise. To register your Future Cruise Credit for extra bonuses and get free expert advice and support simply visit myfuturecruisecredit.com now.