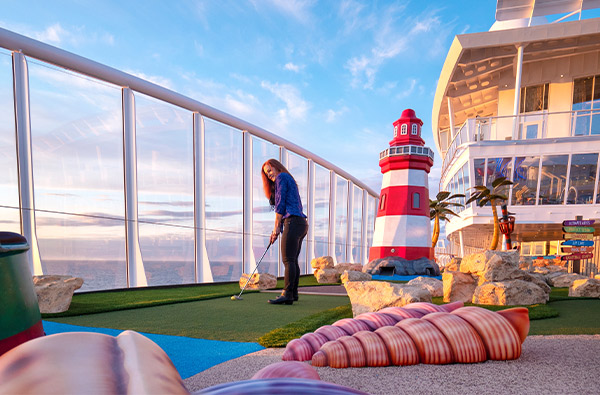 ---
Cruise with Confidence in 2021: Entertainment, Buffets, Shore Excursions & Activities
---
Shore Excursions
Shore activities are also likely to see some changes, with disembarkation and excursions themselves being done in smaller groups; Hurtigruten will be capping its coaches at 50% of normal numbers, for example. Independent exploration may also be limited at the start; P&O Cruises, Crystal and MSC all say guests will initially only be able to explore on organised excursions, while Celestyal says guests will be "strongly advised" to take the line's organised excursions for health and safety reasons. But Lynn Narraway, UK and Ireland managing director for Holland America Line, says cruise lines will be working to overcome this. "As cruise lines, we know the port experience for our guests includes self-discovery," she says. "We want to find solutions that will permit these kinds of activities without compromising our ability to sail."
Post-cruise
So guests can have peace of mind even once their cruise has ended, cruise lines such as Virgin Voyages are developing their own notification process so that guests will be informed should anyone who was onboard become unwell once the holiday is over.
Cleaning and sanitation
While cruise lines already have stringent protocols when it comes to onboard cleaning and sanitation, in light of the coronavirus pandemic, more rigorous measures are being introduced, with staff being trained on COVID-19 cleaning methods. Public Spaces, Staterooms and suites In public venues, such as restaurants, bars and lounges, the frequency of cleaning will be increased. In addition, surfaces which are often touched, including handrails and door handles will be continuously cleaned. To encourage guests to clean their hands often, hand sanitizer stations are conveniently located throughout the ships. Where possible, cruise lines are also fogging public spaces to ensure a thorough clean. The increased frequency cleaning will also apply to staterooms and suites, with MSC Cruises even introducing twice-daily cabin cleaning. All cabins will also be deep-cleaned at the end of each cruise ready for the next guests. Air Filtration systems To make sure that the air guests breathe onboard is fresh and clean, cruise lines have been upgrading their air filtration systems to some of the most state-of-the-art out there.
Onboard Venues
In order to facilitate social distancing onboard, many cruise lines will be reducing the guest capacity of their ships. On top of this, there will also be some changes to the onboard venues to make sure that guests can stay a safe distance apart, and masks may be required where this isn't possible. Innovative gadgets such as the OceanMedallion will also allow guests to order drinks directly to their location, minimising crowds and contact with staff.
Dining
Bubble dining is likely to be the order of the day; P&O says guests will only be able to dine with the group they're travelling with or their household to allow for social distancing, while Uniworld likewise says dining will be done in bubbles and with fewer guests on each table. Amadeus will cap numbers at four per table, with the exception of families. Where possible, buffets will be replaced by table service, with staff wearing protective clothing such as masks and gloves if needed.
Entertainment and activities
While onboard activities and entertainment will still take place, there will be some changes. The capacity in venues such as theatres will be reduced, with empty spaces in between guests. In addition, activities will take place in smaller groups. NCL says all of its activities will be available but with reduced capacity and modified where needed, while Holland America plans on having staggered activity times. P&O also says it will still be running its kids' clubs and activities, in line with the latest approved guidance to minimise contact. So, despite a few differences that might take some getting used to, the cruise show looks set to go on in 2021.
Spas, gyms and pools
On the facilities front, spas, pools and gyms will mostly remain open. "The Healthy Sailing Panel has declared pools and spas 'low-risk zones', providing everyone adheres to distancing guidelines," says Ben Bouldin, Royal Caribbean's EMEA vice-president. "All treatments will be carried out as safely as possible, limiting contact where possible, and all crew members giving treatments will be equipped with the necessary PPE to reduce the risk of transmission to a bare minimum." Uniworld likewise says massages will still be going ahead, with pre-treatment health checks, thorough sanitisation and therapists wearing appropriate PPE.
Outdoor Areas
Out on deck, many cruise lines will add markings to indicate how to stay socially distant from others, as well as limiting the number of people allowed on decks and in areas such as the pools. Items such as sun loungers and daybeds will be frequently cleaned.
Medical personnel and equipment
With cruise ships already carrying medical personnel, many lines will be increasing the number onboard. This will be the same for medical equipment, while there will also be the necessary equipment for rapid COVID-19 testing. In addition, isolation accommodation will be made available should the need arise, as well as ventilators.
Speak to a Future Cruise Credit expert at myFCC to arrange the cruise of a lifetime and book with confidence in knowing your health is taken care of before anything else. We're here to make sure you can make your dream cruise a reality with the reassurance you won't have to worry about anything.