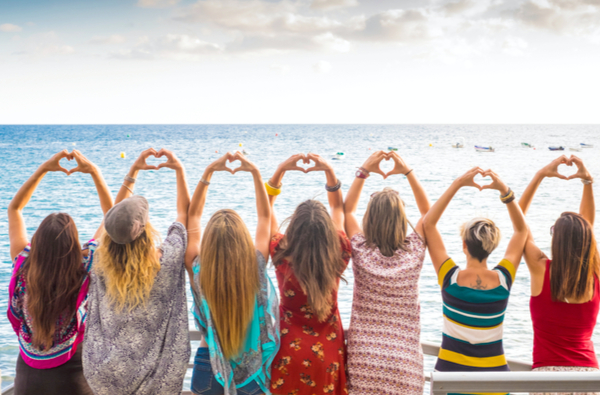 ---
Restore Your Confidence & Passion For Cruising
---
Passionate about cruising but wondering how to restore your confidence & passion for the ocean? Here's our advice to reassure you and some tips and trends for 2021 
It's hard to beat waking up to a new view every day, sunlight streaming in as the waves bob gently beneath your balcony or sipping a pina colada on an open deck as the sky blazes pink and peach above the ocean. Which is probably why we're seeing a strong demand for the second half 2021 & 2022 cruises. 
But with ongoing uncertainty around what to expect next year, not all of us are going to be ready to jump back on a ship straight away, so how do we reassure those of you feeling less confident about setting sail? 
We've spoken to our partner cruise lines and our future cruise credit specialists to gather all the information you need to reignite your love for the ocean. 
Being onboard a ship is like being in a bubble 
Cruise Lines have been incredibly successful at re-emerging from the uncertainty drawn by COVID, and now more than ever, with the correct health procedures in place, a cruise ship is the easiest place to assure testing onboard, while maintaining the environment sanitised and assure all safety procedures are followed. It's a closed bubble with no access from new people while out at sea and no way of inconveniences once customers are boarding.  
It's also exciting to see some aspects of cruising being enhanced with the new procedures, such as more extensive shore excursions, a greater focus on decarbonisation with new fuels, technologies and collaboration between cruise lines, shipyard, ports and destinations, and the new sailings to come in 2021 and 2022. 
Ships are expected to be cleaner than ever before and the enhanced technology is speeding up the practicalities. We are also likely to see more calls away from the crowds, meaning exciting, off-the-beaten-track itineraries. 
We're in this together and we've been a part of it too, so cruise lines know exactly what to do and have first-hand experience with the new procedures 
Honestly, contrarily to when trying to adapt certain procedures around something heard on the news, in this case, there's no hiding, we've all been through this, we all know what Covid is and means and we're all experts in the matter. Life has changed for us all in many respects and the cruise lines have worked tirelessly to find the right balance between protecting guests and still making a cruise holiday an enjoyable experience. 
Not just from an empirical perspective but also in practicality, our luxury cruise line partners have done a great job in understanding the circumstances we're in and have adapted their booking policies in order to offer greater flexibility when booking.  
World cruises are popular, with people keen to tick experiences off their bucket list. 
While initially, it was mainly existing cruisers booking these longer sailings, we have recently seen an uptick in interest from new-to-cruise clients in world cruises. World cruises have proven popular, with people keen to tick experiences off their bucket list. Travel, once again, is being seen as a privilege and not an inalienable right. Since we all expect max vaccinations to have taken place by the second half of 2021, we're seeing incredible levels of interest for The Mediterranean, The Caribbean and more exotic itineraries selling during that time. 
Flexible booking policies EVERYWHERE 
Being confident when booking has become a priority and here at My Future Cruise Credit we're constantly up to date with the latest policies and procedures. Most Cruise Lines are giving customers greater flexibility to amend their voyage or cancel and receive a 100% future voyage credit up to 48 hours before departure. This lets us help you secure an incredible voyage. Rest assured that whatever the unconventional circumstances around us, you won't lose your money. 
Regionalised cruising & river first to set off
Cruising is slowly resuming, but the interesting part is, regionalised sailings are starting to look very popular all the way up to 2022, and river cruises seem to be the new way to go about sailing. With new features and facilities, when booking a river cruise you can feel confident you're getting a premium level of comfort available nowhere else. River cruising is perfect while adapting in current times, smaller ships with fewer passengers mean more space onboard for every guest. 
A new way to planning, booking and looking forward to your trip 
Now more than ever, there's a new way to planning and booking, and even post-booking. First of all, now more than ever, booking with an expert is important. Be guided by someone that can take care of the details tied to your Future Cruise Credit, help you find the perfect sailing, guide you through the best way to book while knowing your booking is safe, and making sure you know what to expect before setting sail. Also, make sure you're up-to-date with live changes in the cruise industry and the latest updates, here at myFCC we can help with that.
Our myFCC agents aren't just experts in cruising, but specialists dedicated to booking in current times and have all the information you need to help you book the dream holiday you've been waiting for, without hesitation.