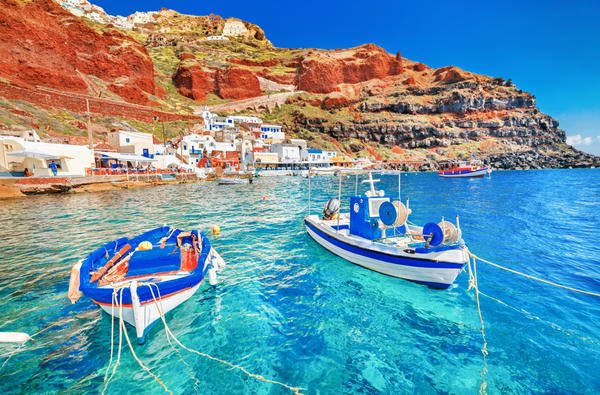 ---
Top 5 EU cities
---
Top 5 EU cities
If you are cruising around Europe, there are a few destinations you just can't miss! Whether you have chosen an Ocean cruise or a River cruise, we've pulled together some exciting information on the top 5 destinations so, whether you decide to stop overnight or are planning some adventure time, you know where to stop, why, what to do and explore.
Greece, Athens
Athens is an incredible city and a complete hot spot for culture. The culmination of Athens' long, fascinating history, alongside the city's values and civilisation, has allowed Greece to acquire a universal significance as a prime holiday destination. It has become an attractive modern metropolis with unrivalled charm. A large part of the town's historic centre has been converted into a 3-kilometre pedestrian zone (the largest in Europe), leading to the major archaeological sites ("archaeological park"), reconstructing the ancient landscape.
Thanks to its rich morphology Athens has plenty of places where you can admire stunning panoramic views of the city, and let yourself be captivated by the Athenian cityscape.
Not to be missed:
Acropolis: The Athenian Acropolis is home to one of the most famous buildings in the world: the Parthenon. This temple was built for the Greek Olympian goddess of wisdom and war; Athena. It is decorated with beautiful sculptures which represent the greatest achievements of Greek artists.
Monastiraki flea market: This is stop will make your vacation a true Greek experience like no other! People come from all over to buy and sell in the market. You can literally find anything here, from antiques to transistor radios, phone cards, cell phones, books and stuff that you and I would classify as sheer junk but might be the exact thing that someone else was looking for on that particular day.
Norway, Fjords
If you get the opportunity, it's a must go! The Norwegian Fjords are mostly well known for the mystical northern lights and giving them a true wow factor compared to any other destination in the world! The fjord landscape is ideal for relaxing in the peace and quiet or get an adrenaline rush with some fun activities. Start off with easy hiking and village and city walks or take a guided tour to the viewing points and vistas of the fjords, mountains, and waterfalls.
Have a passion for history? Here you'll find a bit of everything you desire; historical sites, remnants of old buildings, art and folklore museums, open-air museum, and Viking vestiges. Moreover, this destination is packed with UNESCO World Heritage sites which include Bryggen in Bergen, Urnes Stave Church, the fjords of Nærøyfjord and Geirangerfjord, and its surrounding landscapes.
There are also several national parks in the area with marked trails, self-service cabins, staffed lodges, wild animals, lakes, rivers, glaciers, and visitor centres for the hikers, outdoor and nature lovers.
Not to be missed:
Northern Lights: At the right time of year you will have to camp deep into the Fjords. A beautiful highly recommended experience you should add to your once-in-a-lifetime bucket list.
Glacier Hike: Glaciers are stunning from a distance, but up close you will feel like you were just teleported in a fairy-tale environment of constantly changing sculptures. The changing light, infinite shades of blue and the sounds of the ice, make glacier hiking a unique experience.
France, Paris
Paris is a city that never fails to excite, and whether you wander along the tree-lined boulevards of the winding streets of the west bank or you're standing right under the sumptuous Tour Eiffel, you can be sure to be taken in by its beauty. Rich in culture and architecture there is an outstanding concentration of 180 museums and monuments that await you. If there is time a great way to finish the day is in a little bistro on the west bank where the true spirit of Paris can be enjoyed over a glass or two of wine, and the fantastic French cuisine.
Not to be missed:
The Eiffel Tower: A must for most first time visitors, The Eiffel Tower is a wrought iron lattice tower on the Champ de Mars in Paris and a piece of history not to be skipped or forgotten about.
The Louvre: This is the world's largest art museum and represents a historic epicentre in Paris, hosting the Mona Lisa always there to impress.
Italy, Rome
Rome is breath-taking and unforgettable; it really is one of the only big cities in Europe to compete with Paris! Marked by the history of one of the most important civilisations that has left its mark throughout Europe, sprawling and cosmopolitan these days, Rome is home to the impressive ruins of the Colosseum and speaks of its roman history in almost everything you see. Whilst it is vast, there is a lot of Rome you can see on foot too. From shopping to culture, history to contemporary night-life, Rome has a slice of something for everyone, and of course pizza!
Not to be missed
The Vatican: Explore the Vatican Museums, the Sistine Chapel and the St. Peter's Basilica, and marvel at their unique Renaissance masterpieces.
Pompeii: One of Italy's most famous attractions: an entire Roman town which was smothered under volcanic ash.
Greece, Santorini
Santorini is an exciting place and can be described as a paradise on earth. It is impossible to take a bad photograph in this picturesque coastal city. Santorini is considered to be the most sought after place since there are not many places in the world where you can enjoy exquisitely clear waters, while perched on the rim of a massive active volcano in the middle of the sea! Don't forget to treat your taste buds to some famous traditional food, turning this stop into the ultimate gastronomic experience, on this culinary paradise island!
Not to be missed
Nea Kameni Volcano: Nea Kameni is a small uninhabited island of volcanic origin, its dramatic landscape with dark cliffs sculpted from lava seems something straight out of a piece of art.
Ancient Thira: This archaeological site is home to ruins from the Hellenistic (Greek empire built by Alexander the Great). Stroll through Ancient Thira and you'll find ruins of ancient religious sites, a theatre, old city administrative buildings and even a gym for military training.