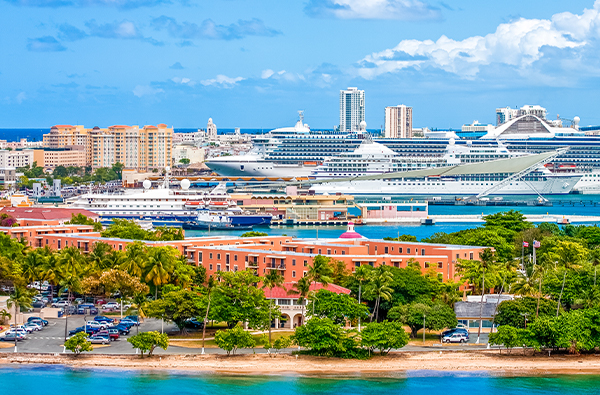 ---
Destination Spotlight: Panama Canal Cruises
---
Panama Canal Cruises
Panama Canal cruises often make ports of call in the Western Caribbean. While these ports are interesting and offer numerous opportunities for shopping, sightseeing, water sports, the greatest appeal of the Panama Canal is the transit itself.
Panama Canal Cruise Highlights
As the name suggests, the greatest part of a Panama Canal cruise is the transit through the canal itself. Watch from the balcony or pool deck as your ship gets in line behind dozens of freighters, tankers, and all other vessels passing through, and observe the amazing engineering feat of raising and lowering massive cruise ships. During the transit, your ship may stop in Gatun Lake, where you can go on eco-safaris into the largely untouched jungle and tour the country of Panama. On either side of the Canal, stops may be made in Puerto Rico, Mexico, and the Caribbean. Here you can soak up the sun, partake in water activities and tour the cities' cultural sights.
Popular Panama Canal Cruise Ports
While there are a variety of itineraries that include the Panama Canal, most involve at least a few ports on either side. Here are a few you're likely to see on any itinerary:
San Juan, Puerto Rico:Puerto Rico's capital is the second oldest European-established city in the Americas, and still has many relics from its historical past. Visit Fort San Felipe del Morro, La Fortaleza mansion, and the ruins of Ponce de Leon's former residence.
Cartagena, Colombia:Located on the west coast of Colombia, Cartagena's main sights include the walled "Old Town," which dates back centuries and features cobblestone streets and colonial buildings, and Bocagrande, the more cosmopolitan beach scene that exudes New World glamour.
Acapulco, Mexico:This beautiful resort city was made famous in the 50s and 60s, when Hollywood stars made it their unofficial getaway spot. Today, visitors can go cliff-diving, view murals painted by Diego Rivera at the Dolores Olmedo House, and gaze over the seaport from the Fort of San Diego.
When is the Best Time to Go to the Panama Canal?
Almost all Panama Canal cruises take place during the winter months, between November and April. They are typically at least 10 nights, and up to 14 nights in length. Travellers can also go on a repositioning cruise, offered once in the spring and once in the fall as most cruise lines move from the Caribbean to Alaska or vice versa. These cruises can be as long as three weeks, though are typically sold in segments for those looking to sail for a shorter length of time.
What Cruise Lines Go to the Panama Canal?
Most major cruise lines offer Panama Canal itineraries, though some of the largest cruise ships today cannot pass through. Here are a few lines to explore:
Holland America Line:Looking for a long getaway? Try Holland's Tampa to Vancouver route, or San Diego to Fort Lauderdale, both of which pass through the Panama Canal. Many of Holland America's Panama Canal itineraries include a day-long stop in Half Moon Cay, the line's private island.
Princess Cruises:Princess offers cruisers three ways to experience the Panama Canal: full transits, from west coast ports to the east coast; partial transits, sailing round trip from Fort Lauderdale; and two-day canal experiences, which stop in ports like Aruba, Cabo San Lucas or San Juan del Sur.
Celebrity Cruises:Choose from five departure ports in California and Florida on a Celebrity Panama Canal cruise, and enjoy adventurous shore excursions like flyboarding, sailing, and fishing on Gatun Lake. As you sail through the engineering feat that is the Panama Canal, relax on Celebrity's Rooftop Terrace with a drink in hand.