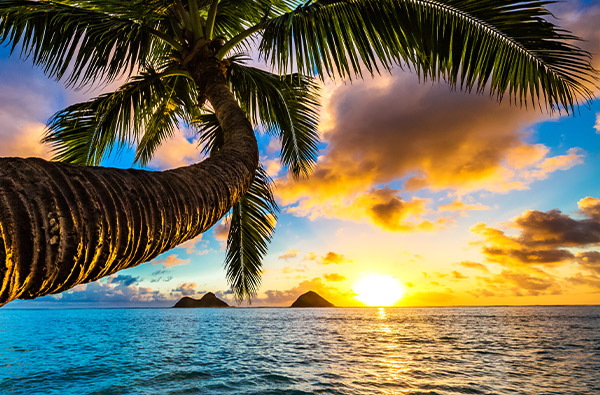 ---
Destination Spotlight: Hawaii
---
Hawaii
Hawaii is the U.S.A's 50th state which is made up of six main islands, all known for their multi-colour beaches, waterfalls, rugged landscapes and unique culture.
Paradise awaits and offer you plenty of things to do: hike through Haleakala National Park, fly over active volcanoes in Volcanoes National Park, or snorkel, swim, and kayak your way through the many beaches. In town, you can visit the Honolulu Museum of Art, the Pearl Harbor Memorial and the Imiloa Astronomy Center, or take ukulele or hula lessons.                                                                                                                            
Popular Hawaii Cruise Ports
Ports of call on cruises to Hawaii vary depending on the voyage's length, but you can expect to visit at least two or three of the major islands. Here are five of the most visited ports:
Kona: Youngest and largest by far of the Hawaiian Islands, the "Big Island," is still growing, with active Kilauea Volcano belting out molten lava into the sea.
Maui: Try your hand at water sports in Maui: the island is home to many famous surfing, snorkelling, and windsurfing spots like Kanaha Beach Park and Ko'okipa Beach. Maui, the second-largest island in Hawaii, is often rated among the world's most romantic islands.
Hilo: Visit Hilo to explore a bustling town filled with waterfalls, rainforests, museums and many botanical gardens. Forty-five minutes south of Hilo lies Hawaii Volcanoes National Park, home to one of the most active volcanoes on earth.
Kauai: Kauai offers a different kind of paradise more low-key and pristine, and somehow more authentic. A Kauai rule states no building can exceed the height of a coconut tree, so the skyline is dominated by swaying palms, majestic mountains and almost daily rainbows.
Oahu: Oahu has a reputation for having the most consistently beautiful weather light trade winds and moderate warm temperatures almost year-round.
When is the Best Time to Go to Hawaii?
With a warm climate year-round, there's never a bad time to visit Hawaii. Cruise lines travel to the island throughout the year. The summer months are usually the most popular, as winter months can be slightly rainier, though showers are typically brief. Many cruises depart from Honolulu. Others depart from the West Coast of the United States or Australia; these itineraries often include four to five consecutive days at sea while sailing across the Pacific Ocean.
What Cruise Lines Go to Hawaii?
Hawaii is a popular destination for many cruise lines. Below are a few to choose from.
Norwegian Cruise Line: Voted Best Hawaii Itinerary for the last 14 years by Porthole cruise magazine and is the only seven day cruise sailing to four Hawaiian Islands year-round! Experience the Islands of Oahu, Maui, Hawaii & Kaua'I over 5 different ports of call on the one and only Pride of America ship.
Carnival Cruise Line:Depart from Honolulu, Los Angeles or Vancouver on a Carnival Cruise and arrive in Hawaii ready to attend a luau, hike up to a volcanic mountain, and explore world-famous beaches. Prepare yourself for total relaxation - most sailings are 10+ days.
Holland America:Set sail on a Holland America cruise to Hawaii from San Diego or Vancouver, and relax on your way there on the line's elegant mid-sized ships. An enthralling speaker series, the luxurious Greenhouse Spa and delicious dining options are sure to keep you pampered and engaged en-route to your destination.
Princess Cruises:Princess Cruises' exclusive "Aloha Spirit" program brings the essence of Hawaii on board to enhance your trip from start to finish. Lei-making workshops, ukulele and Hula dance lessons, and folkloric performances take place throughout voyages, and Hawaiian Ambassadors are on board during every sailing. Once in Hawaii, get to know the islands with Discovery and Animal Planet recommended shore excursions.