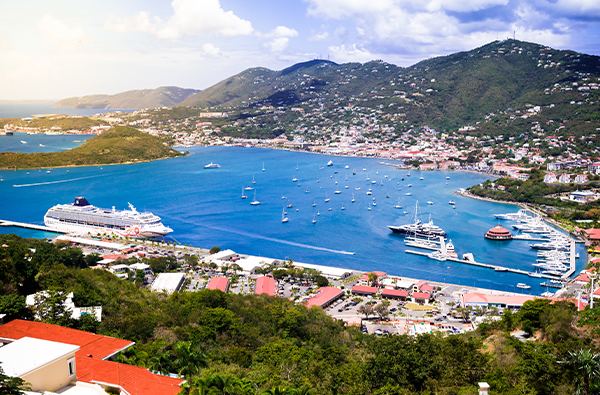 ---
Destination Spotlight: Caribbean Cruises
---
Caribbean
The Caribbean and cruising are practically synonymous. Lounge on the top deck as you sail through the region's bevy of islands, then make your way onto the white sand beaches for more relaxation and fun.
Caribbean Cruise Highlights
Made up of more than 7,000 islands, the Caribbean is full of places and ports to explore - from the Cayman Islands to Antigua and Barbuda, Aruba, St. Kitts, the U.S. Virgin Islands and more. The islands are filled with cathedrals, forts, museums, and markets, as well as the gorgeous sandy beaches and crystal blue water so often seen in pictures. Visitors can swim, snorkel and kayak - water sports abound in the Caribbean. Visit the Catedral Primada de America in Santo Domingo, sip something refreshing at the Pelican Bar in Jamaica, or ride dune buggies in Punta Cana.
Popular Caribbean Cruise Ports
The Caribbean has dozens of ports to uncover; here are a few of the most visited:
Cozumel, Mexico:Famous for its scuba diving, Cozumel is a popular port with lagoons, diving reefs, a national park and animal sanctuaries. Favorite activities include swimming with dolphins and visiting the Mayan ruins.
San Juan, Puerto Rico:Discover two worlds: Old San Juan, a charming, colonial town with cobblestone streets, candy colored homes, and vibrant culture; and New San Juan, a growing metropolis with luxurious beachfront hotels, bustling nightlife and world-class dining.
Belize City, Belize:The former capital of Belize is brimming with adventure, from hikes in the rainforest to cave and river tubing to a climb up El Castillo, one of the tallest Mayan structures in Belize. Stroll through markets and taste some of the local produce or purchase homemade arts and crafts.
Charlotte Amalie, St Thomas:Shop your heart out in St. Thomas, often called the "duty-free shopping capital of the world." Beyond the shop-lined streets lies beautiful scenery; take a skyride 700 feet above the ocean to Paradise Point, or drive along Skyline Drive and enjoy the magnificent views of Magens Bay.
Falmouth, Jamaica – Located on the northern coast of the island, Falmouth is all about adventures in nature, like visiting the spectacular Dunn's River Falls in Ochio Rios and exploring Negril's stunning Seven Miles white sand beaches. When it's time to grab a bite, there are plenty of Jamaican food, from famous Jerk Chicken to their national dish Ackee and Salt Fish.
When is the Best Time to Go to the Caribbean?
With a desirable climate year round, there's never a bad time to go to the Caribbean. However, December to April is typically the most popular time to travel, when it's drier, less humid and slightly cooler, though still a warm escape from winter temperatures elsewhere. Departure ports are available across the country - from Florida to Texas to California.
What Cruise Lines Go to the Caribbean?
The Caribbean is a popular destination on most major cruise lines. Here are a few to check out:
Disney Cruise Line:Discover the wonder of beautiful locales aboard a Disney Cruise to the Caribbean. Stop in Grand Cayman, Cozumel, St. Maarten, or Disney's own private island, Castaway Cay.
Royal Caribbean:The cruise line's namesake destination is one of its biggest. Sail away from Maryland, New Jersey, Texas or Florida onboard ships just as fun as their ports of call.
Celebrity Cruises:On a Celebrity cruise to the Caribbean, you can choose from an astounding 920 shore excursions. Sail in style and return to luxurious amenities like the Canyon Ranch SpaClub after long days in the sun.