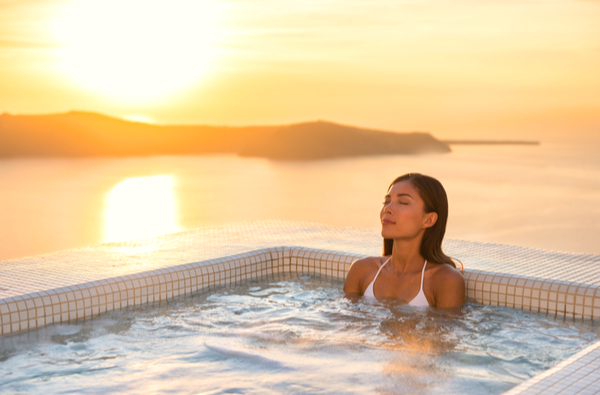 ---
Cruising 101: Wellness & Beauty
---
Wellness and Beauty Onboard
Redeeming your Future Cruise Credit can be very exciting, look forward to an all-encompassing experience, inclusive of meals, entertainment, accommodation, onboard activities and so much more. If you're looking for a wellness retreat or need some time to relax and switch off with spas, pools, saunas and extra massages, cruising is definitely the way to go. Enjoy a floating oasis, travelling to different destinations, while indulging in the best mind, body and spirit-releasing experiences. Leave your everyday life behind. 
What can I do onboard? All ships offer different services but here's some insight on what you'll have access to!


Floating Gyms
Nearly all cruise lines have gyms and fitness centres which are free to use! Most cruise ships' gyms contain various pieces of cardio equipment (treadmills, elliptical trainers, stationary bikes, etc.), resistance training machines, free weights and mats. Gym amenities vary by cruise line, but most will have water coolers and towels to use, as well as individual TVs or cardio machines.
Fitness Classes
Cruise ships often offer a variety of fitness classes; these range from stretching and abs workouts, yoga, Pilates, spinning, group cycling, Zumba, TRX suspension training and so much more. Sometimes the entertainment team on board will also host dance classes which are so much fun too! Watch out for special hosts onboard such as international dance professors, famous training ambassadors, such as leaders in Zumba or even world-class yoga teachers! 
Spas
Most recently, Cruise lines have completely revamped their health and wellness experiences, as a matter of fact, some of the best wellness experiences in the world are now at sea. Sometimes you even have access to the most prestigious products available for sale to complement your treatment and then take home with you. Here are some of the most popular services:


Massages
Facials
Wraps and body scrubs
Reflexology and Reiki
Acupuncture
Cellulite reduction
Dermal fillers
Botox
Teeth whitening
Seminars
If you're interested in finding out some forever-young beauty tips or the next wellness hacks, seminars are an amazing and useful activity. Many cruise lines feature a number of seminars and hands-on enrichment activities that will send you home with valuable information. Here are some of the topics you can learn about:


Slimming and nutrition
Back and joint care
Pilates and weight loss detoxification
Healthy dining options
If you're looking to stay in shape on holiday or find a new you, a lot of the cruise lines also offer nutritional advice and healthy eating tips as well as options to help you reach your goals.
Salon
Think you'll miss your favourite hairdresser or are worried about not getting a trim for over 7 days, don't worry, every major cruise line includes salon and barber services (for women, men and, sometimes, even teens), so rest assured, whether you're looking for a special look for dinner or just want to feel fresh the entire time, the onboard teams have got you covered!