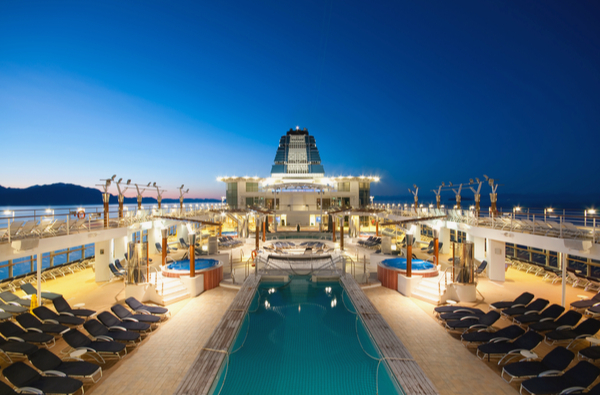 ---
Cruising 101: Inclusions
---
The Ultimate Floating Oasis – ALL-IN-ONE Holidays everywhere
Contrarily to land vacations, cruises are the all-in-one type experiences that take you everywhere and cover pretty much everything. Yes, your very own floating oasis with a different destination to wake up to almost every day! What is included in the Cruise Fare that I pay? Your cruise fare covers accommodations, entertainment, most meals, dining activities and so much more. In fact, it is quite possible to go on a cruise and forget your wallet while onboard!


Accommodation
This can vary based on preferences, the number of guests, or even what you would rather spend your money on. Inside, oceanview, balcony, suites, there is so much to choose from, and once chosen, it's included in the total cruise fare you pay. Either way, be sure, when booking a cruise , your accommodation is all sorted!
Meals
Be ready for unlimited multi-cuisine delicious dining at main restaurants, casual restaurants, and showcase extravaganza meal shows from some of the top renowned chefs in the world. Whether it is your morning coffee, breakfast, lunch, afternoon tea, dinner or a midnight snack, consider it covered! Cruising is a great way to try new foods and indulge!
Entertainment
The onboard entertainment team will be sure to bring your cruise holiday to life with a heap of activities such as games, trivia contests, group competitions, ziplining, water slides, movie theatres, arcades and kids' clubs, keeping couples, groups and even kids busy throughout the day. On the other hand, evenings are packed with lively nightly entertainment, including Las Vegas and Broadway & stand up comedy shows, concerts, dance clubs and even intimate lounges with live music playing in the background.
Facilities
Take full advantage of shipboard facilities including pools, spas, whirlpools, fitness centres, sporting equipment and so much more.
Cruise Card
One of the best parts of holidaying on a cruise is the convenience of being able to pay for all of your expenses at the end of your holiday, completely stress-free! When checking-in for your cruise, you will receive a Cruise Card (a personal identification card). Your Cruise Card is used to access your personal shipboard account to which all onboard purchases are charged.
24-hour Oceanview
Now, whether you're sailing to Alaska or off to the Caribbean, the view of the ocean is one of the most important features of your trip. Be ready for an amazing sea breeze, and whether it's accompanied by an incredible view of the sky-high icy mountain tips, or white-sanded endless hot beaches, the crystal waters will be the most amazing view to wake up to every day.