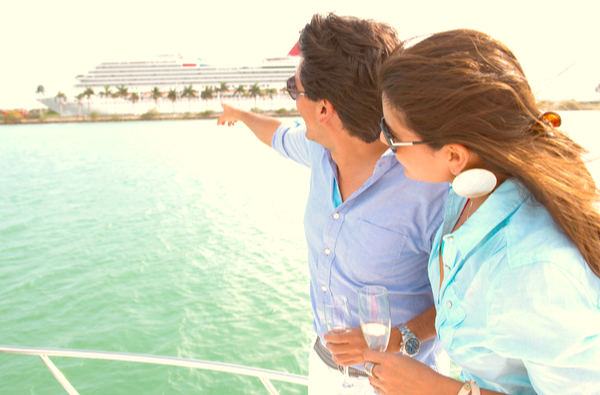 ---
Cruise destinations 101: When to go
---
Cruise destinations 101: When to go
Unsure when to go on your next cruise to make the most of your destination? Price, plus weather, plus season can really make a difference. Finding a great price, with weather that isn't oppressively hot, nor chilly and windy, with the least crowds, can really affect your overall experience. We've selected the most popular destinations worldwide and given you some insight into the best times to travel to them, so all you have to do is pick where you want to go, and we'll do the rest.

Be sure you don't end up on a wonderful Mediterranean cruise, sitting on a blissful Italian coast eating gelato, when it is raining and cold! Also, if you're not ready for crowded spaces we've identified the best time to cruise with the most pleasant weather outside of peak seasons, too!

Now, no matter where you decide to go or when, we suggest booking at least six months in advance to have the best possible choice; high demand accommodations and exciting itineraries.


Trade worst kept secret on when to travel:
Wave season (January to March) is when you will get the year's top deals, including free perks (like upgrades and onboard credits), and amazing savings on exclusive fares. Use the table below to guide you on peak seasons and Mid-season, the value season is where you will get the best deal for your money, but not necessarily the best weather, and ports may not be in full flow, so we keep that in mind too!
Alaska: June - August
Alaska has a very short cruising season; ships traverse its northern waters only between May and September. The months of June through August offer the warmest weather (50 to 70 degrees Fahrenheit) in this chilly state and are therefore the best and most popular times to cruise. In May and September, you'll find some closures and a bit more chill in the air (high 50s to 60s), but you'll also find the best prices. In addition, May is the driest month of the Alaska cruise season, so you're less likely to be rained out of your flightseeing tour, glacier walk or other excursions.
To minimise joining the masses, select a ship that sails during the week. For a pricing advantage, northbound glacier routes tend to be cheaper than southbound.
Asia: November - March
Because the summer months of June and July (low season) bring the most rain and oppressive heat and humidity in Asia, the best time to cruise in terms of weather is November through March (high season). However, that's also when you'll find the highest prices and the most crowds at major attractions in the ports on Asia cruise itineraries. You'll find slightly less favourable weather, but also fewer people and less expensive fares in shoulder season.
Australia: Late November - March
Australia's high season is late November to March, so expect near-perfect conditions in major ports of call like Sydney, Adelaide and Perth on the western side and a subtropical climate in the northeast Queensland region. It's also Cyclone season, however, which may affect some ports of call (such as Brisbane and Cairns) and lead to some rough sailing waters. Aussies often holiday between late December and late January, so expect big crowds and jammed ports during that time.
While Australia's climate varies widely, winter temperatures are rarely extreme; crowds are fewer, and there are bargains to be had, especially on larger ships. The downside: Expedition cruises and sailings to Tasmania are often limited during the rainier months of June, July and August.
Bermuda: June - August
Bermuda cruises sail from April through mid-November, mostly during Bermuda's high or beach season. Most people travel during the summer months (June through August), making those voyages pricier, but you'll find deals on spring and fall departures (April through early June and September through November).
Bermuda has temperate weather year-round and is less affected by hurricanes than its Caribbean neighbours. If it's too chilly for the beach in the shoulder season, you can always try out the island's many golf courses and spas. October tends to be the rainiest month. Bermuda's big weather caveat: Hurricane season traditionally affects the island at least once a year between late August and October. May is your best bet for shoulder season travel.
Canada/New England: September and October
Canada and New England sailings depart from May through October. You've got a better chance for warm weather if you travel from late June through early September. However, if you prefer more crisp weather (temperatures in the 10s) or you're interested in fall viewings, you'll need to go from late September to mid-October.
May and late-October sailings will offer the lowest rates, but don't expect to be using the onboard swimming pool much. Meanwhile, the summer months are ideal for exploring some of Canada's most intriguing cities in milder temperatures (usually in the 20s).
Caribbean: December Through Mid-April
You can sail to the Caribbean year-round, but the best time to go is when it's coldest in the Northern Hemisphere. Not only is the warm Caribbean climate a welcome respite from bad weather, but December through April are the driest months in the islands as well.
The cheapest times to cruise are typically in the late summer and fall because of hurricane season, but you can often find patches of bargain sailings, especially during the early weeks of December and in the spring. The timing of spring discounts isn't always consistent, so it's best to keep an eye out and book when you see a low rate. If you dislike crowds or large numbers of children, avoid sailing late June through August or during school break times (late December, early January and March through mid-April).
Europe: April - June, September - October
Europe is so big that you can't lump all its cruises together. The Western Mediterranean cruise season runs from April through November, with a few European lines staying the course through the winter. The warmer Eastern Mediterranean and Greek islands, as well as the Canary Islands, see cruise ships between April and December, with a sprinkling of winter cruises from select lines.
Northern Europe and Baltic cruises have a shorter season, running from April to October, with Viking and Hurtigruten offering Northern Lights sailing January through March.
Most tourists come to Europe in the summer, but the late spring and early fall have more pleasant temperatures and not as many crowds. You'll find the lowest cruise prices at the beginning and end of each season; prices rise dramatically for the summer months.
You might find restaurants and other establishments closed in August, which is when much of Europe goes on holiday. September is a popular time to cruise the Western Mediterranean because you can avoid the school kids and still enjoy warm temperatures. Note that March and November can be rainy.
Europe Rivers: May - September
Europe's main river cruise season runs April through October, but peak sailings are May through September. Spring can mean flowers in glorious bloom. (Favourites are the spring Tulip Time cruises through the Netherlands and Belgium.) However, keep in mind that heavy rains and early-spring flooding can make the rivers swell and the locks impassable.
Conversely, summer temperatures can cause the rivers to dry up, making it impossible for boats to move. If these weather events happen, you'll be taken to the sights by motorcoach.
Hawaii: Late December - April
High season in Hawaii is late December through April, but you can explore the islands year-round. The best time to go is during the summer and fall when the island gets the least amount of rain. Summer tends to be popular because of school holidays and honeymoon season. Hawaii cruises are cheapest from November through February, with the exception of holiday cruises.
If you're considering a summer cruise, note that seas can be rough in August. Hurricanes rarely affect the islands, but they come closest in September, bringing hot, humid weather, despite it being the dry season. They can also kick up storms that lead to rough seas and less-than-ideal excursion conditions.
Good deals are often available in the less-travelled window between Thanksgiving and Christmas. Late September and October can also see a large selection of cruise ships visiting the islands, as ships tack on Hawaii cruises after the end of the Alaska season and before transiting to their next seasonal homeport.
Mexican Riviera: February Through Mid-April
You can cruise to Mexico year-round, either as part of a Western Caribbean itinerary or as a dedicated Mexico voyage. The best time to visit Mexico is during its dry season, November through May. However, it's a popular destination even during the rainier summer months. You'll find the best deals in the fall, between the two high seasons and during hurricane season.
In early spring, the weather is dry, with temperatures between 20 and 27 degrees Celsius, making it a popular escape for Northerners, and February and March are prime whale-watching months. On the negative side, college-age youths often cram into port destinations like Ensenada and Puerto Vallarta at this time, creating a wild and boisterous atmosphere. During off-peak months, there are fewer crowds and a more adult atmosphere, but the weather can also be unpredictable, with temperatures dropping as low as the 40s.
South America: November – March
The high season (November through March) occurs during South America's summer but be prepared for varied climates that can change rapidly wherever you go. The warm mid-20s you're enjoying could turn into windy, rainy temperatures dropping as low as 4 degrees Celsius, in the blink of an eye. Plus, when it's steamy in Buenos Aires, it can be quite chilly in ports like Punta Arenas and Ushuaia. Although you can expect crowds of South Americans on vacation, you can find high-season bargains in the weeks between Thanksgiving and Christmas.
High season is pretty much year-round in the Galapagos Islands, where the warm and tropical climate is relatively unchanging. However, those prone to seasickness should avoid August and September, when waters can be choppier.
Tahiti/South Pacific: May - October
The South Pacific's high season (May through October) actually occurs during the winter months. At this time, the weather is more favourable, as it rains less frequently and there's a reduced possibility of tropical cyclones (though the strongest trade winds usually kick up at this time, too). The region's dry season dovetails nicely with wedding season and school summer holidays, making cruises popular with honeymooners and European and American families on extended holidays.
The South Pacific's summer (November through April) is the wettest time of year, when rain, temperatures and humidity increase. However, prices are significantly lower, and water temperatures are still perfect for swimming. March and April tend to get less rain than earlier in the summer season.