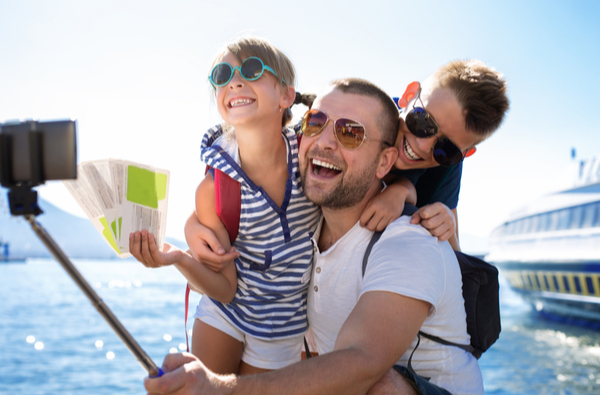 ---
Cruise Vacation Vs. Land Vacation
---
Vacation Choices: Cruise Vacation vs Land Vacation
Destination
Cruising Vacations: Gives you an opportunity to get the absolute best value for your money by visiting multiple destinations with one suitcase on one vacation! You can explore the Mediterranean or soak in the Caribbean if you truly want to indulge in visiting different continents and cultures during the same holiday, cruising is your ultimate best solution.
Land Vacations: Are incredible; however, you are often tied to a single location. If you wish to see multiple destinations throughout a single land-based vacation, you would have to factor in multiple bookings and arrangements for different hotels, transfers and even flights depending on the destinations you wish to explore.
Accommodation
Cruising Vacations: Cabins included with your cruise fare can often accommodate up to 2 adults and 2 children. When travelling with larger parties or groups, options to book intercommunicating cabins make the party so much fun!
Land Vacations: When considering a land vacation, your accommodation often needs to be booked separately, so more cost & more planning and sometimes endless arrangements! Resort and hotel properties can really have unique features, compared to a cruise cabin, however, all-in-all a hotel room can only accommodate up to 2 adults, and maybe an infant. When booking accommodation you also have to watch out for the location as there's no guarantee, will you be in the city centre and too far from the beach or will you be too far from where everything happens and need to arrange further last-minute transportation to get to where you want to be? Top Tip - ensure you have enough local currency for a taxi, before leaving the hotel to explore the surrounding area.
Dining and drinks
Cruising Vacations: Soft drinks and an exclusive range of dining options are mostly included with your prepaid cruise fare, meaning, once you sail, you can be sure you're not spending an extra dollars unless you want more. Options to upgrade are always available, these include premium alcoholic beverage packages, unlimited drink packages or premium dining options. Moreover, most cruise lines offer, among the options included with your cruise fare, both a mixture of family-friendly more casual environments, as well as various restaurants with different types of cuisines, from pub food to Mexican, Asian or even fine-dining. If you love your food, onboard a cruise, you really will be spoiled for choice.
Land Vacations: When booking a land vacation, food is always an extra part to think about. Whether you like dining out and trying different local restaurants, chose to self-cater, shop and cook during your vacation, or opt for room service, you'll always have to think about what solution to come up with for your daily meals, all at an additional cost to the money already invested in the vacation.
Activities and entertainment
Cruising Vacations: Cruising is fun, whether you're younger or more senior, ships offer all kinds of activities and entertainment both available during the day and at night. Whatever your preference, a cruise vacation guarantees you'll never be bored. In the evenings, be ready for an amazing range of entertainment ranging from Broadway-type shows to live-music lounges, or all-night-long night clubs, while during the day you'll be busy doing yoga, dance lessons, playing pool games or indulging in delicious wine tasting. Different cruise lines offer different activities, but all cruise lines make sure there is something to do for everyone mostly all day long.
Land Vacations: Similar to arranging activities in your home time, when away on a land-based vacation, you'll have to think of everything. Planning ahead is a good solution for a land vacation, this way you have an agenda, maybe prepaid tickets to shows and events and any additional activities already arranged. Spontaneous land holidays can be exciting but sometimes last-minute bookings end up costing so much more, so you might end up missing out on making the most of you adventure to save money.
Children
Cruising Vacations: Cruising is great for children of all ages considering the team onboard will be sure to arrange daily programs for the kids so they can enjoy the vacation as much as their parent too!
Activities range based on the age group and the cruise line, however, among the most popular ones are football games, soft play area entertainment, dance lessons, competitions and even face painting. Most cruise lines have excellent kids' clubs which will be age-appropriate.
Land Vacations: On land vacation kids can sometimes mean no private time for adult fun or they get bored and tired of exploring and walking around. Some land vacations can be centered around children where fun fares, theme parks and zoos have been arranged to keep them happy, however, any children's Clubs, activities or babysitting services, where available, come at an additional cost.
Our Verdict
While land vacations are amazing to deep dive in the heritage, culture and the in the most of a single destination, cruising gives you so much more! Enjoy an unlimited experience inclusive of top-quality accommodations, multi-cuisine dining, world-class entertainment and unique onboard activities, all wrapped up in one floating resort. Experience freedom, flexibility and incomparable value all in one location, your cruise ship. With multiple itineraries and destinations worldwide, you now have the power to tailor your holiday experience, so you get to see and do whatever your heart desires at an exceptional value – with mostly everything included in your fare.
Contact the team at my Future Cruise Credit and let the experts help you tailor the next vacation of your dreams around your needs.