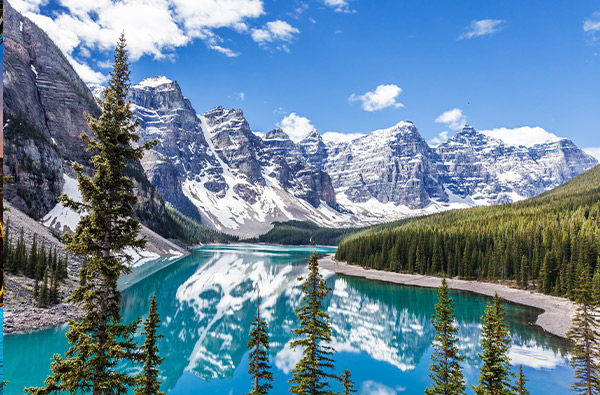 ---
Destination Spotlight: Alaska
---
Alaska
View bears, moose and seals in the wild, stroll through quaint towns without a chain store in sight, and trek along ancient glaciers, then return home to your luxurious floating home each night. With departure ports in Canada and the U.S, there are a number of ways to get to Alaska, and even more to do once you get there.
Alaska Cruise Highlights
Alaska is ripe with activities to fill your days on shore. Discover one of the many national and state parks, such as Glacier Bay National Park, a 25-million-acre World Heritage Site. Go on a kayak tour through the Bay or take in the abundance of birds and wildlife. Step back into an older era and go panning for gold in Juneau or Fairbanks. Or, soak up some of the 49th state's culture during a visit to the Anchorage Museum, Baranov Museum or Alaska Native Heritage Center. For those interested in marine life, the $56-million Alaska Sealife Center, located in Seward, combines research, education and rehabilitation for injured marine animals. Hold sea anemones and starfish, or watch seals frolic in the water. Alaska is home to many unique animals, visible from the ship and on expeditions on land. Whale-watching is a must, and even the most casual fisherman will enjoy a trout fishing excursion.
Popular Alaska Cruise Ports
Anchorage: Alaska's largest city, Anchorage is known for its culture and trails. Visit the Alaska Native Heritage Center to see traditional crafts, dances and replicas of native dwellings, or hike along the more than-100 miles of city paths.
Juneau: Alaska's capital - one of the most beautiful in the nation - is surrounded by Mt. Juneau and Mt. Roberts. Just steps from the port you can find some of Juneau's main attractions along historic South Franklin Street.
Sitka: Home to around 9,000 residents, Sitka is a small town brimming with remnants of its Russian heritage, such as the Saint Michael's Russian Orthodox Cathedral. You can visit the Alaska Raptor Center and Fortress of the Bear to see more incredible wildlife.
When is the Best Time to Go to Alaska?
Alaska's cruise season begins in May and ends in September. During the rest of the year, weather conditions can be harsh, with cold, wet and short days. The summer months, however, offer comfortable average temperatures between 55 and 75 degrees Fahrenheit, as well as glacier views and snow-capped peaks on display year round. Maximizing time is easy during these months: the longest day of the year can have as many as 22 hours of daylight in June!
What Cruise Lines Go to Alaska?
While most major cruise lines venture to Alaska, here are a few to explore:
Princess Cruises - Voted "Best Cruise Line in Alaska," Princess Cruises to Alaska include not only beautiful ships to get you there, but exclusive rail service and Princess-owned wilderness lodges to stay in once you arrive.
Disney Cruise Line - Families will love taking a Disney Cruise to Alaska, which stop in ports like Skagway, Juneau and Tracy Arm, home to the Tongass National Forest.
Silverseas - Their small luxury ships will bring you to Alaska in comfort and style, with exclusive events on shore and t sea, like a land tour to the majestic Denali National Park.
Oceania - One of only a few lines to dock at Haines, the adventure capital of Alaska, an Oceania Cruise to Alaska provides an upscale yet casual ambiance with fresh Alaskan seafood served in restaurants onboard.