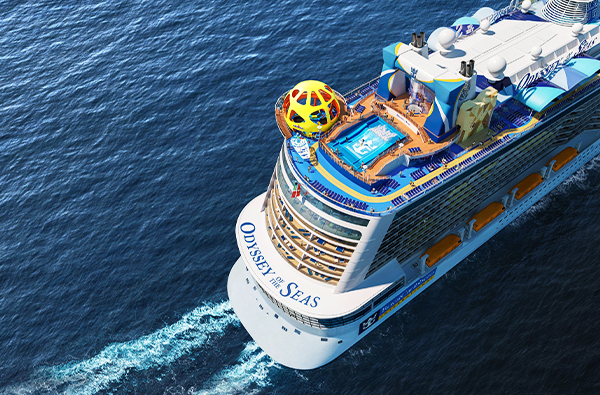 ---
2021's most anticipated new cruise ships
---
2020 has seen numerous delays which saw the cruise lines suspend most of their sailings and pushed their new vessels months behind schedule from their original launch date.
But it's going to be a big year in 2021 with a number of notable new comers getting ready for their maiden voyage.
Here's a look at what to expect to in 2021:
Virgin Voyages: Scarlet Lady & Valiant Lady
Richard Branson-backed Virgin Voyages debut ship, Scarlet Lady, hasn't even begun sailing yet and there is already a second vessel on its way. With Scarlet Lady set to sail in May, Valiant Lady will set sail in November. Both Ships will be sailing on a series of Caribbean voyages.
These two ships will be designed to shake up the industry with everything from a Tattoo parlor to colorful karaoke lounges to ensure that a proper party vibe is had and it will also be a kid free zone with a minimum age to sail of 18.
There will be no buffet's, no dress codes and no big Broadway-style theatre shows, so expect Dance parties and DJ sets on these hip and trendy new ships.
Royal Caribbean: Odyssey of the Seas
This is the second Quantum Ultra class vessel from Royal Caribbean but it will be the first to sail in North America to the Bahamas and Caribbean.
While not quite as big as the record-breaking Symphony of the Seas (the world's largest cruise ship), Odyssey of the Seas will offer it's 4,198 passengers, multiple pool areas, a kiddie aqua park, top-deck entertainment zone complete with bumper cars, sky diving simulator, a surfing simulator and Royal Caribbean's iconic North Star.
With this ship setting sail in April, it will have something for everyone and with two deck royal loft suites, 10 times the size of an interior Cabin, this is nothing short of what you would expect at a major resort.
Holland America: Rotterdam
Originally to be named Ryndam, Holland America transferred the existing Rotterdam earlier this year and while keeping the tradition, the new Rotterdam will be the seventh vessel in Holland America's 150-year history to sail under the historic moniker.
With double the occupancy, Rotterdam will be the latest in Holland America's Pinnacle Class series, sister to Nieuw Statendam and Koningsdam. It will feature many of the same venues B.B King's Blues Club, Lincoln Center Stage and Billboard Onboard.
It'll also have an innovative wine-mixing venue called Blend and the ships main stage, called the World Stage, will feature a 270-degree LED screen as a back drop and a stage that will protrude far into the audience.
Carnival Cruise Lines: Mardi Gras
Carnival is finally hitting the supersize button, with their most anticipated ship in decades, Mardi Gras will be 35% bigger than their biggest ship in its fleet, Carnival Panorama and one of the 10 biggest cruise ships ever (Carnival Panorama doesn't even crack the top 40 list of biggest ships).
They will be making a splash with the first roller coaster at sea (no, this is not a joke), Carnival's largest waterpark ever and a broader array of suites with 32 suites having access to a private enclave known as Loft 19. It will also host new eateries by Shaquille O'Neal and the first Emeril Lagasse restaurant at sea.
Making its homeport in Port Canaveral, it will offer 7-night cruise itineraries to the Bahamas and Caribbean. With being able to hold 6,630 passengers per sailing, it will be the first ship in North America to be powered by clean-burning Liquefied Natural Gas technology.
MSC: Virtuosa
Nineteen decks high, spanning 331 meters (1,086 feet) and carrying 6,297 passengers, MSC Virtuosa will be one of the 10 biggest cruise ships in the world.
Like it's sister, the one-year old MSC Grandiosa, Virtuosa will have many of the same features. That includes a grand interior promenade that's home to restaurants, bars and shops. It will also feature Cirque du Soleil performances, a giant pool deck, a water park and a sprawling amusement park with race car and flight simulators and an XD cinema.
Passengers will be able to access their cabins, book reservations and make purchases through out the ship using wristband technology.
Princess: Enchanted
Princess is introducing it's 5th Royal Class Vessels, set to sail in April with the lines; Ocean Medallion technology built into it.
With all your Royal class favourites that we know and love, expect to see the adults only Sanctuary, Movies under the stars, an expanded Piazza atrium; plus Princess Cruises' lavish Sky suites that offer the largest balconies in the Princess Cruises' fleet.
In addition to the above, newcomers for 2021 also include:
Discovery Princess – November
Viking Venus – April
MSC Seashore – July
P&O Iona
Seabourn Venture – December