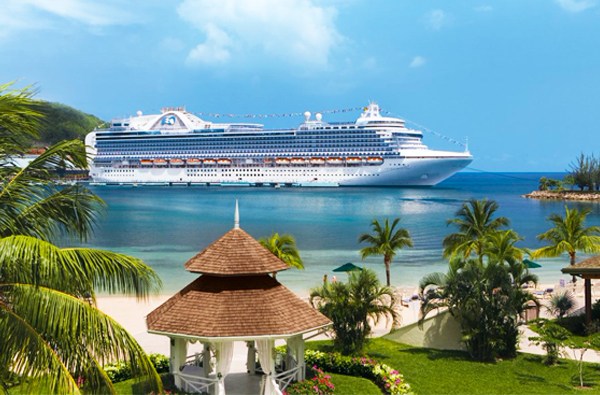 ---
Sail the Globe on a World Cruise
---
See the World by Sea
It's on many avid cruisers bucket list, to ditch the monotony of everyday life and sail around the world, waking up in a different port, whilst being waited on hand and foot. From the South Sea, the bustling cities of Asia, the culture and history of Europe, the breathtaking landscapes of South America, the glacial wonderland of Antarctica and the sprawling wildlife in Africa. There are so many incredible places the world has to offer that are waiting to be explored.
Whether you are thinking about booking a world cruise, or are just curious about them, here are a few of our expert world cruise tips.
What is a world cruise?
A world cruise is a circumnavigation around the globe on a cruise ship. Traditionally, a world cruise sails to a number of countries and continents; cruising for a minimum of 90 days or up to as long as wonderful four months. With the growing demand a number of cruise lines do now offer grand voyages, which sail for a similar amount of time but generally focus on a particular hemisphere. World Cruises typically set sail in January, with most departing from major cruise ports such as Southampton and Miami.
Book your world cruise in advance
World Cruises are growing in popularity so it always pays to do your research and book ahead. Especially if you want a particular stateroom it pays to get in quick. Keep an eye out for early release dates around for world cruise or grand voyages availability in two years' time. Example book in 2020 for a World Cruise in 2022.
Pay attention to the direction of your itinerary
Sailing around the globe means there will be many time zones to adjust to. We strongly recommend clients to sail east to west; that way, you're setting the clock back, not forward, an hour. That was you don't have to keep putting your clock forward and it's much more restful.
Packing for a world cruise
It is important to keep in mind when packing for World Cruise that you will need to pack for a range of climates and different terrains. Pack the essentials (see our article on What to pack), warmer clothes for the cooler nights at sea and a decent pair of walking shoes so you can make most of your time ashore and sightseeing.
Finally washing powder and fabric softener is something many seasoned cruisers take with them. It saves you buying powder onboard and most ships don't sell fabric softener.
Injections and Visas
We recommend that you consult with your local doctor, travel medical service or specialist vaccination clinic before commencing your cruise. Make sure that you are aware of any health requirements and recommended precautions relevant to the visited destinations and ensure that you carry all necessary vaccination documentation. In some cases, failure to present required vaccination documentation (e.g. proof of vaccination) may deny you entry into a country and the ship could be fined or refused entry in to port. It is also very important that you ensure that you have valid passports, visas and entry permits which meet the requirements of immigration and other government authorities in any countries visited. Most cruise lines will provide general information on the necessary requirements, but it's good to know these yourself.
Pre-book shore excursions
One bit of advice we really must stress is to read up on each destination port and pre-book shore excursions you really want to do before you set sail. So many excursions sell out before the cruise even starts and this will ensure you won't miss out. There is an excursions team onboard most cruise lines to find out more about each place and make any last-minute bookings, but keep in mind that tour availability may be limited. Remember that you can explore many ports independently, but do your research before you go to maximise your time in each port and how you can get to and from the ship.
Not everyone sails for the full duration
It may come as a bit of a surprise to you, but the percentage of people sailing on a full world cruise is actually very low. The majority of cruisers join during different sectors of the cruise. These sectors are split in to smaller cruises that can last two weeks or more. This allows world cruiser to meet new people and share the joys of the travels they have already done and of what is about to come.  
Good food, good mood
A major perk of cruising is the amazing food options onboard. On a world cruise it's recommended to pace yourself so you can enjoy the lovely, rich ship food for the duration of your sailing. Keep it simple and follow a routine like you would at home and treat yourself every now and then to something different. A lot of cruise lines will rotate their menus roughly every 30 days so you have plenty of time to work your way through each menu and re-order your favourite dishes. One last tip is to remember to indulge in the local cuisine ashore, who knows the next time you will be sitting in Italy sinking your teeth into a delicious suppli (fried risotto balls), taste authentic pizza, and drink fine local wine.
Major cruise lines that offer World Cruises
As world cruises grow in popularity there are more and more cruise lines embarking on these exciting voyages. Here is a list of cruise ships departing on circumnavigations to exotic destinations.
Cunard Line
Holland America Line
MSC Cruises
Oceania Cruises
P&O Cruises
Princess Cruises
Regent Seven Seas Cruises
Seabourn Cruise Line
Silversea Cruises